David Tennant is one of the finest actors on British shores – that much is plain. He brings a raw passion to his performances, consistently churning out excellent work in varied roles. I'd liken him to Daniel Day-Lewis's TV equivalent. No, not in turns of gut-busting lunacy and supremely crazy method acting – I don't think anyone else could do such a thing. It's more in terms of quality – if you see Tennant's name attached to a project, it's pretty much a guarantee of that show's excellence.
I'm aware the above can sound like a world's tallest midget-esque description, in terms of damning with faint praise – after all, if Tennant was the acting colossus I've made him out to be, he'd surely have a more prolific film career beyond his excellent cameo as Barty Crouch Jr. in Harry Potter, a fun turn as a vampire-slaying showman in Fright Night and some voiceover work? Well really, I'd agree with you – he totally should, and for the life of me, I can't figure out why he doesn't. He's obviously a talented man, and anyone who can light up the TV screen and stage in equal measure surely deserves the nod from Hollywood.
Yet while it's a sad fact of life that Vinnie Jones has a more comprehensive film CV than Tennant, let's look on the bright side. Film's loss is TV's gain, and it only improves the reputation of British TV to have a man of Tennant's calibre on their various payrolls. He consistently provides strong work, and if the fawning critics are anything to go by, he's pulled it off once more in legal thriller The Escape Artist, which premiered yesterday on BBC One.
So in honour of his apparently flawless turn as sleazy lawyer Will Burton, I've decided to catalogue Tennant's finest TV performances. If you want to see some quality television, I suggest you dig out any of these – you won't be disappointed.
6. Jimmy Murphy – United
The problem with the sporting drama is that it's very hard to make non-sports fans care about a drama that involves even a modicum of the stuff. While some people do indeed love seeing their favourite athletes portrayed on-screen, there's also a vast legion of folk who'll instantly shut off as soon as they hear the word 'football' or 'Manchester United' spouted by a character.
This was the challenge United faced. Concerning itself with Manchester United's 1958 Munich disaster – when the majority of the club's (arguably) most gifted team lost their lives in a plane crash – it was heart-rendingly dramatic in the most awfully human way and transcended the it's-just-a-game criticism levelled at its predecessors.
We saw the action both before and after the tragedy, through the eyes of Jack O'Connell's Bobby Charlton and David Tennant's Jimmy Murphy. It was Murphy who proved the bedrock during the team's time of crisis –with manager Matt Busby in the hospital, it fell to his assistant to bring in a whole new team so the club could fulfil its playing obligations, as well as providing support for the shell-shocked survivors such as Charlton.
I might be going into hyperbole, but I'd honestly say Tennant was perfect in the role. Once more showing his chameleonic ability with accents by taking on Murphy's Welsh brogue, he brought a grim determination to the part, exuding heartfelt sympathy and admiration as the man with his finger in the dam, the one who had to keep it together because there was no-one else. It's an impressive role, and Tennant brings an extraordinary man to life with extraordinary assurance.
5. Alec Hardy – Broadchurch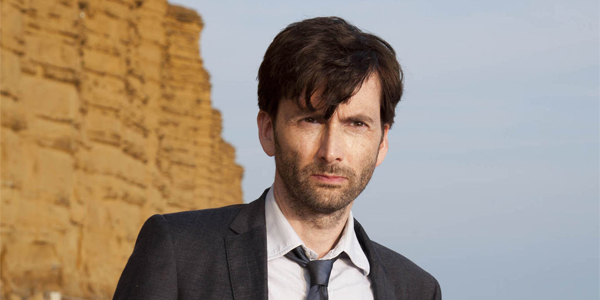 When you stick Olivia Colman and David Tennant into a high-value dramatic production, it's only natural that you're going to get something utterly superlative. Augmented by a stellar supporting cast featuring Arthur Darvill, Pauline Quirke and David Bradley, the reliably awesome duo provide the bones on which the outstanding dramatic meat is set.
Obviously, Colman is never acted off-screen – how could that ever happen? – and matches Tennant blow-for-blow, but when something's this good, there's no point keeping score. Instead, it's best to sit back and watch truly exceptional TV in action. Make no mistake, this was terrific stuff, centring on the murder of a young boy in a fictional Devonshire town. Playing the physically and professionally ravaged detective in charge of the case, Tennant oozes damaged charisma, and it's astonishing to watch the effect the series' shocking turns have on him.
Frankly, the copper-with-a-backstory trope is one of TV's most massively overused dramatic devices, but it's down to Tennant's considerable acting prowess that he's able to make this work. His Alec Hardy certainly has demons, but the whole damaged shtick never gets old and actually compliments his fish-out-of-water persona. The role has gone down as one of Tennant's best – he scored a TV Choice award off the back of this, and received a nomination at the prestigious Europe-wide Monte Carlo Television Festival. I'd say it was well deserved, and he's going to be reprising the role for the hotly-anticipated US version.
4. Aiden Hoynes – The Politician's Husband
Following on from Paula Milne's critically-acclaimed The Politician's Wife, The Politician's Husband offered a novel new twist on the family versus ambition dynamic. Namely, this time the action – scripted by Milne, again – would focus on a husband attempting to sabotage his wife's (played by the peerless Emily Watson) ascendant political career, rather than vice-versa.
While the Juliet Stevenson-starring original is indeed fantastic, I'd argue it's because of the above change that this version becomes even more compelling. Namely, by turning the beached party into David Tennant's previously high-flying political animal, it took away the sense of righteous indignation of its predecessor's protagonist and turns it into a far nastier beast. Basically, Tennant's Aiden Hoynes isn't a very nice man, and when he's dumped from the party's front bench and into political Siberia after a failed coup – itself a product of naked, self-serving ambition – he finds both his demotion to househusband offensive to both his masculinity and his previous status as breadwinner.
The weird thing is that Tennant's machiavellian character isn't sympathetic at all, but he remains nothing more than compelling and troublingly human throughout. His reluctance to slip into what was his wife's role is understandable, yet worthy of scorn, but it's when Hoynes really starts to jump off at the deep end that Tennant gets to shine. Whether he's trying to reassert his dominance by effectively raping his wife, or attempting to re-establish gender roles by sabotaging her contraception, he's utterly odious, and it's Tennant's stern-faced, cerebral performance that lets us hate him so. Like a true politician, he's all smiles and courtesy on the surface, yet you can always see the cracks in the mask and the machinations whirring away. It's a very difficult trick to pull off, but Tennant manages it with ease.
3. Giacomo Casanova – Casanova
As everyone knows, David Tennant tried for the role of the Ninth Doctor back when Russell T. Davies was attempting to kick-start the moribund franchise out of its coffin and back into the primetime Saturday night slots. However, despite coming close, the role went to Christopher Eccleston, so Tennant went away, licked his wounds and came back as the Tenth. Yet what happened between those two events? Casanova, that's what.
Released in April 2005 on BBC Three, Casanova followed the adventures of history's greatest lover as he shagged his way through 1700s Europe, and featured an astoundingly strong cast including Peter O'Toole, Rose Byrne and Rupert Penry-Jones. Yet still, the star of the show was Tennant, who despite O'Toole's best efforts, robustly refused to have the limelight stolen from him with a powerhouse performance.
Sadly for Doctor Who fangirls who for some pre-Timelord sex scenes, there's not too much to go on here. Instead, we get a strangely poignant tale which requires Tennant to put in some real dramatic muscle. It's a bit jarring at first, but seeing the guy wrestling with his demons on a show which could've easily devolved into Carry On Venice proved strangely compelling viewing, and it's easy to see how Tennant landed one of TV's biggest roles off the back of this.
2. Prince Hamlet – Hamlet
For some of us humble TV-watching folk who don't happen to live in London, the theatre can seem a world away. Oh sure, you could argue that the best productions go on tour so everyone outside the Big Smoke can see them, but still, if you happen to live in the netherworld between British cities, or – perish the thought – outside good old Blighty, you might not get to see these productions that apparently set the world on fire.
So it was with Tennant's Hamlet. Despite an extensive touring run with the Royal Shakespeare Company, it was always to be expected that not everyone in the world would be able to see it. Those who didn't had to rely on ecstatic word-of-mouth and glowing critics reviews telling us that the erstwhile Scotsman was killing it as the Prince of Denmark, with some particularly effusive commentators speculating it was up there with Laurence Olivier's work.
Now, that's a debate for another time, but the fact there's a debate to be had cements that Tennant must've been doing something right, even if we couldn't see it. So when we got to see the play brought to the small screen, we could judge for ourselves, and you know what? He made an excellent case. Starring alongside the original RSC supporting stage cast – which included Patrick Stewart – he exuded an unparalleled intensity, leaving you rapt at his soliloquys and astonished at the seething, demented physicality of it all. Watch the famous court fight scene and the many other times the Prince's life falls into the toilet and tell me this isn't a quality performance – after all, there's a reason why critics have called him the finest Hamlet of his generation, and he's got stiff competition in that area.
1. The Doctor – Doctor Who
Oh come on, what else could it be? If I missed this out, every Whovian would come for me with rightly-deserved brickbats. Simply put, there's a reason why many show fans rank him above Tom Baker as the best Doctor.
Sporting a natty blue-and-brown suit, an Estuary English accent and a pair of iconic Converse trainers, Tennant's portrayal of the Tenth Doctor can arguably be credited with making Doctor Who the colossus it is today. That's not to do Christopher Eccleston a disservice – he provided the grounding for the show, but it was Tennant's energetic turn which took it to stratospheric heights.
And really, it was an incredibly varied performance – despite being a 'young' Doctor, he conveyed the gravitas of an ageless demigod superbly, imbuing his performance with the world-weariness befitting the Timelord mantle. There was simply nothing the guy couldn't do – he could oscillate between light-hearted joy, steely resolve and malevolent d*ckhness with aplomb at a moment's notice. When allowed to flex his dramatic muscles, the pure drama he could whip up was magnificent.
The standout for me was the Human Nature/Family Of Blood double-header, where he so ably flitted between the bookish, distraught John Smith – a man experiencing an existential hammer-blow, realising he was nothing but a shadow – and the confident, charismatic Doctor was something to behold, and makes the Scot well worthy of his lofty status among the Doctors. Let's just forget about the Ghostbusters bit, shall we?
source