Duam78
Lady of the Tardis





Hors ligne



Inscrit le: 24 Mar 2009
Messages: 2 759


Localisation: Chartres
Posté le: Ven 7 Oct 2011 - 10:20

 

   Sujet du message: [Documentaire] We Won't Drop the Baby

---



David sera la voix-off du documentaire dédié à Laurence Clark, comédien, auteur, acteur et militant pour les droits des personnes handicapées, résidant à Liverpool. L'enregistrement a été réalisé le 19 septembre 2011. Il sera diffusé le dimanche 25 mars sur BBC1 (vers 22h30 UK, diffusion après le football)



Biographie de Laurence Clark




Citation:
Laurence spent years studying for a PhD which he now feels is pretty useless since he turned to comedy!

Laurence has cerebral palsy and his outlook on life as a disabled person very much shapes his comedy. His first show, The All-Star Charity Show, won critical acclaim at Edinburgh Fringe in 2003. The show was named Critics' Choice in The Times and Laurence was described as a "powerful comedy voice" and "stunningly hard-hitting" by critic Kate Copstick in The Scotman's round-up of the best of the fringe.

Subsequent shows he has taken to Edinburgh Fringe include The Jim Davidson Guide to Equality, where Laurence responded to 'comic' Jim Davidson cancelling a show because wheelchair users were in his audience by doing a comedy show which he vowed to cancel if Jim turned up in his audience! In Jim Fixed It for Me he tried to come to terms with having appeared on Jim'll Fix It as a child and not getting a Jim'll Fix It badge. His next show, 12% Evil took its title from the many famous villains who were portrayed as disabled in order to make them seem sinister and evil; e.g, Richard III, Long John Silver, Captain Hook, Dr Strangelove, various Bond baddies and of course... Heather Mills-McCartney! Finally his controversial show, Spastic Fantastic followed Laurence's attempts to reclaim 'spastic' as someone with cerebral palsy through stand-up comedy and hidden camera stunts.

Laurence accepts his Dadafest award in 2005 for 'Best Performer' Across all his shows Laurence has received 19 x 4-star reviews and 3 x 5-star reviews. He has topped Shortlist magazine's Britain's Ten Funniest New Comedians list, ahead of such comedy luminaries as Daniel Kitson and Alex Horne.

Laurence is a comedian, presenter, writer and actor with appearances including Are You Having A Laugh? (BBC2); Embarrassing Bodies (C4); Newsnight (BBC2); and The London Programme (ITV). Laurence regrets taking a small walk-on part in BBC 3's dire sitcom I'm With Stupid, but finds solace in the fact that one of the five words he had to say was "buggery!" He's most proud of having been a guest reporter on BBC 2's Newsnight, presenting a film about disability and the Abortion Act. On stage he has acted with the Graeae Theatre Company and appeared in A Midsummer Night's Dream at the Octagon Theatre. He regularly performs with the comedy collective Abnormally Funny People, resident at London's Soho Theatre and has written a regular column for the BBC Ouch website.



Pour en savoir plus sur Laurence :
- son site www.laurenceclark.co.uk
- son Facebook : https://www.facebook.com/LaurenceClarkComedian#!/LaurenceClarkComedian
- son Twitter : http://twitter.com/#!/Laurence_Clark
- sa chaine Youtube : http://www.youtube.com/laurenceclark


source
_________________

Merci Circus Doll pour l'avatar
isaf
Tennant Encyclopedia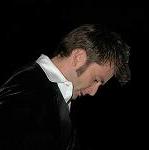 Hors ligne



Inscrit le: 24 Mar 2009
Messages: 1 261


Localisation: Lausanne
Posté le: Ven 16 Mar 2012 - 20:23

 

   Sujet du message: [Documentaire] We Won't Drop the Baby

---

isaf a écrit:

La date de diffusion a été annoncée. Ce sera le mercredi 21 mars à 22h35 (heure UK) sur BBC1.


Encore un changement de date

"We Won't Drop the Baby" sera diffusé le dimanche 25 mars sur BBC1, vers 22h30 (après le football)
Source
_________________


Un grand grand MERCI à Duam78!!!!